How to Read Your Heating Oil Tank Gauge
Automatic delivery from Wesco Oil makes it easy to get heating oil!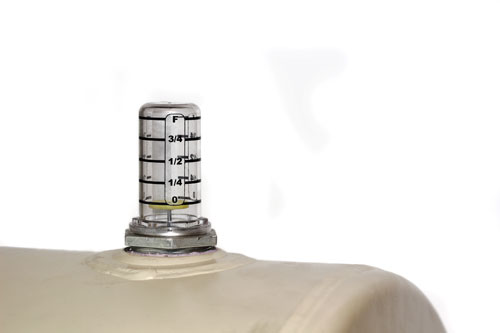 In case you hadn't noticed, it's getting pretty cold here in Rhode Island and southeastern Massachusetts. That means making sure you have enough heating oil for your home is on your mind, especially when you're a Will Call customer.
The best way to make sure you always have enough heating oil whatever the weather is to sign up for automatic heating oil delivery with Wesco Oil. We track your heating oil usage and schedule a heating oil delivery to your home before you run low.
Whether you chose Automatic Delivery or Will Call, knowing how to read your heating oil tank gauge is essential to having enough heating oil on hand at your home.
Wesco Oil can walk you through it with these tank reading basics:
Look on the top of your heating oil tank for a clear glass or plastic tube with these markings on the outside: F, ¾, ½, ¼. Those markings are like a gas gauge in your car. A red marker or float will tell you how full your heating oil tank is. If that marker or float is at the bottom of the gauge or not visible, your heating oil tank is empty or almost empty and you need to contact Wesco Oil immediately for an emergency heating oil delivery.
Make sure the gauge is working properly. Carefully remove the outer case then gently press the float down. You'll know your gauge is working as it should when the float bobs back to the original position. If it doesn't, your gauge isn't working properly and you need to contact Wesco Oil so we can come check it out.
Most homes that are heated with oil have a 275- or 288-gallon heating oil tank. When full, they usually hold about 225 gallons of heating oil. That allows for air or debris at the bottom or your tank. If your tank gauge is at ½, you have around 110 gallons left. Some homes may have 340- or 420-gallon heating oil tanks. Most modern heating oil tanks have their capacity size marked on its nameplate, but older tanks may not.
On average, a 2,500 square foot home uses about six or seven gallons of heating oil a day when the outdoor temperature averages about 32˚. If your 275-gallon heating oil tank gauge is at ¼ in this situation, you have enough heating oil for around one week. But the colder the weather is, or the larger your home is, you will use more heating oil. That's why we urge you to schedule a delivery well before your tank gauge reaches ¼ full.
Boilers run better on a full tank than a tank that's around ¼ full. Keep your boiler operating at top efficiency with regular fill-ups. We make getting your heating oil easy with online ordering and information on how much fuel you need to order!
Get in touch with Wesco Oil to learn more about our heating oil delivery options!