Heating Oil Delivery to Your Home
Wesco is your reliable full-service heating oil company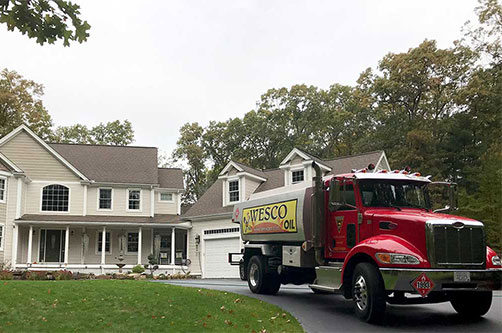 The most important trait of a heating oil delivery service is its dependability. You need to know that you can get the heating oil for your home when you need it, and that your heating oil provider is committed to a high standard of service.
That's why you can count on Wesco Oil for your home heating oil delivery.
Heating oil delivery options that work for you
Being a locally owned heating oil company, Wesco Oil understands the heating oil needs of homeowners in Rhode Island and southeastern Massachusetts.
Because of that understanding, we understand that one-size-fits-all does not work when it comes to heating oil delivery. That's why we have options for how you get heating oil delivered to your home.
Our most popular heating oil delivery option is automatic delivery. And automatic heating oil delivery is as easy as it sounds. Instead of having to remind yourself to go and check your heating oil tank gauge levels, and having to schedule a delivery, Wesco Oil takes care of everything for you.
Emergency Heating Oil Delivery
There is an added fee for emergency heating oil delivery. But, if you're a Wesco Oil automatic delivery customer, that fee is waived! Contact us if you need emergency delivery, or want to learn more about the benefits of automatic heating oil delivery.
We know that every home is different when it comes to heating oil usage. Among the factors we use to monitor your heating oil usage are the size of your home and the type and age of your heating system. We then monitor your heating oil usage at the start of heating season and combine all of that information with a close monitoring of the weather to come up with a customized heating oil delivery plan for you.
If it's more control of your heating oil delivery that you want, you can use our cash-on-delivery (COD) option to schedule your heating oil deliveries to fit your needs and your budget.
We also offer emergency heating oil delivery, with the associated fees waived for automatic delivery customers.
Speaking of budget, you also have options when it comes to your energy payment plan. In addition to our COD option, you can use our budget plan to spread your heating oil costs evenly through the year rather than fluctuating bills.
Why oil heat for your home?
Oil heating offers a lot of advantages when it comes to keeping your home warm and comfortable.
No other fuel source will get your home warm faster than oil heating.
Oil heating is also an efficient way to heat your home. Heating oil burns up to 30 percent more efficiently than electricity and 20 percent more efficiently than gas. Thanks to advances in technology, the improvement of oil heating systems and the top-quality HeatForce™ Home Heating Oil #2 that you get from Wesco Oil, you can heat your home with little or no emissions.