Maintenance and Repairs for Your Home's Heating, Cooling and Water Heating Equipment
Wesco Oil can keep your home comfortable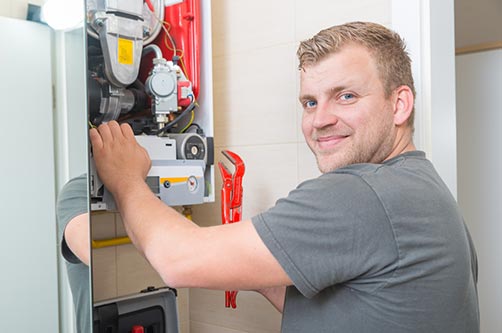 At Wesco Oil, we're all about quality. We deliver high-quality premium HeatForce™ Home Heating Oil #2. And we sell top-quality home heating, cooling and water heating equipment.
That quality extends to the people who service and repair your equipment. We back up everything we do in service with the highly trained and experienced technicians. Our head technician is a licensed master pipe fitter who can work on all steam, hot water and heating systems. One of our technicians is a specialist in all types of fire protection systems. And all of our technicians are certified in both Rhode Island and Massachusetts to install, maintain and repair oil burner systems.
Wesco Oil is a full-service oil and home heating company. And when we say "full-service," we mean it. If your heating system stops working, even in the middle of the night, our phone lines are open 24/7 to get you a fast response for emergency service.
Save on repairs with an annual tune-up
The best way to prevent emergency service calls is to have your equipment serviced regularly. It can also save you up to 10 percent on your heating costs and help your equipment last longer. Our certified technicians can service all kinds of heating, cooling and water heating equipment.
Service plans to protect your investment
As a Wesco Oil customer, we want to make sure your equipment is properly cared for. It's why we offer a range of service plans to fit your needs and your budget.
Our Platinum and Gold Bee Service Plans are designed to give you the premium service and coverage that you'll value during the winter. The Gold and Platinum Bee Service Plans are designed to give you peace of mind, as your service and parts are covered in an emergency.
A service plan from Wesco Oil is a simple and cost-effective way to keep your home's heating system running at its best.
From Northbridge to West Warwick, Providence to Plainville, count on Wesco Oil to service and repair your equipment.