Water Heater Repair and Maintenance When You Need It
Don't be stuck with cold showers!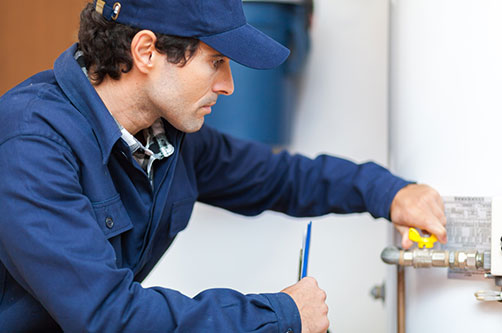 You don't realize how critical your home's water heater is until you step into the shower and … no hot water.
While that's not the best way to start a day, it's good to know you have Wesco Oil's team of professionals here to help you get your water heater working again.
Wesco Oil helps fix water heater problems
When you need emergency water heater repair, Wesco Oil is the full-service company to rely on for prompt, professional water heater service.
We have a staff of service technicians who are experienced, trained and certified in both Rhode Island and Massachusetts. Our head technician is a licensed pipefitter for not only water heaters, but steam heating and boilers.
Wesco is a full-service company. Our phones are open 24/7 when you need emergency water heater service, and we respond promptly.
Prevent water heater repairs with regular maintenance
Regular water heater service is beneficial in more than one way for your home's water heater.
Having your home's water heater maintained regularly helps keep your water heating system in good running order. That means you're much less likely to deal with your water heater breaking down, and the emergency service call and possibly expensive repairs that go with that. Your system will also run more efficiently, which can reduce your energy costs.
Did you know that the average life expectancy of a tank water heater is between 8 and 12 years? Regular maintenance of your water heater can help extend the life of your water heater so you can get the most out of your investment.
And if you're ready to upgrade your home's water heating system, Wesco Oil's professionals can help you select the right one for your home and your family, and install it. We also sell and install tankless water heaters for endless hot water on demand.