Heating Oil Delivery in Greenville, Rhode Island
Wesco Oil
307 Farnum Pike
Smithfield, RI 02917
401-231-3681
Hours:
Monday–Friday: 8 a.m.–4 p.m.
Saturday: 8 a.m.–12 p.m.
Sunday: Closed
Wesco is at home in Greenville
Greenville was first settled in the 17th century. The village got its name from Nathanael Greene, a major general in the Revolutionary War whom many saw as George Washington's right-hand man. Greene was the force behind the success of the Continental Army in the South, defeating the troops under the command of the British general Charles Cornwallis in key battles including Guilford Court House, Hobkirk's Hill, and Eutaw Springs. The Free Will Baptist movement was active in Greenville in the 19th century.
Today, Greenville is one of the best suburbs of Providence, with outstanding schools and a community that is also home to many retirees.
Reviews
"I'm a new account. When I placed my first online order, they called me the next day and, since the prior tenant used them as well, they gave me the complete rundown of last year's oil usage and how long I could expect what was in my tank to last, and delivered the oil exactly when they said that they would. Very professional. Very impressive." – Brian A.
"I have been using Wesco for oil delivery and furnace maintenance for over 10 years. Always on time. Always courteous and professional on the phone and in our home during servicing. They had a guy at our house very, very early in the morning to fix the furnace when it broke one very cold day. Wouldn't dream of using anyone else!" – Richard S.
Services offered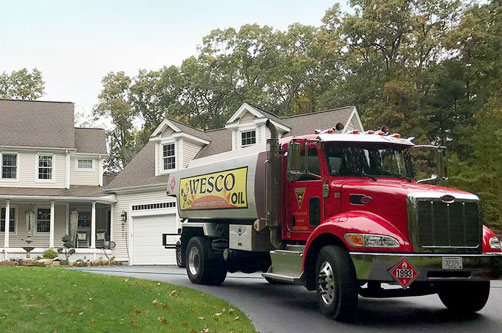 residential heating oil delivery
automatic delivery
COD delivery
boiler and furnace installation and service
water heater installation and service
air conditioning installation and service
equipment service plans
commercial fuels delivery and service
on-road diesel
off-road diesel
Areas served
Smithfield, RI
Greenville, RI
Gloucester, RI
Burrillville, RI
Johnston, RI
About Wesco Oil
For close to 40 years, Wesco Oil has been providing homes and businesses in Rhode Island and southeastern Massachusetts with reliable, safe delivery of quality heating oil. Our HeatForce™ home heating oil #2 helps protect your heating equipment and may extend its life.
Our business model of responsive personal service and competitive, transparent pricing has sustained us while discounters with their unreliable, bare-bones business models have gone under time and again.
Wesco's offerings have expanded over the years to include commercial fuel services and equipment installation and service.