What Is A Good Summer Thermostat Temperature Setting?
Keep cool while saving on energy costs!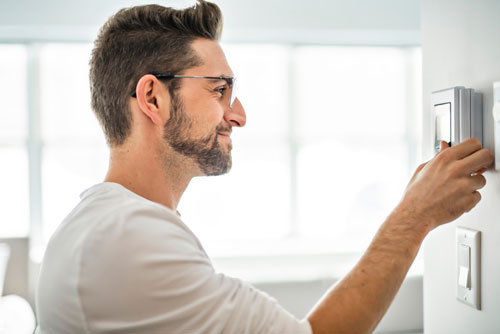 With the arrival of summer here in Rhode Island and southeastern Massachusetts, you might be worried about what air conditioning can do to your energy bills.
Good news: Saving on your energy costs this summer doesn't have to involve drastic changes. You can still keep just as cool and comfortable as you like.
The best way to save on energy just requires you to remember to do one simple thing: turning your thermostat up 7˚ to 10˚ for eight hours a day during cooling season (and down the same amount for eight hours a day during heating season). The U.S. Department of Energy reports that this can help you save up to 10% on your cooling and heating costs. And when you consider cooling and heating make up about 50% of what you spend on energy each year, you see just how big those savings can be!
Seasonal Thermostat Settings
Use this simple guide to get started on savings.
Summer months:
When you're home and awake, program air conditioning to 78°F.
Program the A/C to shut off during the hours you're out of the house.
Winter months:
When you're home and awake, set the thermostat for 68°F.
Lower temperatures by 10° for the hours you're asleep or out of the house.
Programmable thermostats help save you money
Yeah, programmable thermostats and the high-tech smart thermostats cost a little more than a standard thermostat. But you'll get that investment back and then some because it will adjust your thermostat for you. If you have the unfortunate habit of forgetting to turn off the A/C while you're out of the house, having a set-it-and-forget-it programmable thermostat will do it for you.
Smart thermostats take that several steps further because you can control and monitor your home's HVAC system through your smartphone or tablet!
Here's how you use a programmable or smart thermostat for enhanced energy savings.
Program heat or A/C to shut off 20-30 minutes before you leave home each day; return them to normal comfort levels 20 to 30 minutes before you come home.
Program reductions in heating or cooling to begin 60 minutes before you go to sleep; return them to normal comfort levels 30 minutes before you awaken.
Contact us for help in keeping your cooling costs down this summer!